July 6, 2021  by Destination Moosehead
Happy summer on the lake! It's a great time of year to dive in and cool off. There are so many things to do on and in the water at Moosehead. Whether you want to be on, in or just near the water while visiting Moosehead, there is water fun for everyone! 
Please be sure to plan in advance for your trip, as water activities on the lake are very popular and lodging and water equipment rentals tend to be booked early. 
The Best Ways to Get on the Water in Moosehead Lake
Lily Bay State Park
This 925-acre gem of the region offers multiple points of access and activities to enjoy quality time on the lake! The park allows boating, swimming, and fishing. Here's how to best take advantage of Lily Bay:
Boating

 – The park has two boat launches with slips at each end of the park (located at Dunn Point and Rowell Cove). Motorized and non-motorized watercraft are allowed, but the area can get windy so it's best for smaller vessels to stay close to shore for safety.
Swimming

 – Lily Bay is the ideal spot for diving into Moosehead Lake! Beaver Cove features a sand beach that is great for families with children of all ages. The park also offers designated swimming areas with fine pebble beaches, stunning beach views, and even wheelchair access areas so that everyone can be included in the fun. 

Fishing

 – Fishing is a great summer sport for individuals of all ages and experience levels. The warmer months bring open-water fishing opportunities to hook landlocked salmon, brook trout, and lake trout (usually early to mid-May). As of early June, smallmouth bass have become prolific. According to guests, it's common to catch 3-to 5-pound smallmouths! 
Drinks at the Birches Resort
Take a Boat Tour
Local history meets scenic vistas and the peace of drifting on deep waters when you step aboard the steamship Katahdin. Take a tour of the lake, munch a homemade lunch or special dinner, and learn about the history of the region while discovering hidden coves and noteworthy landmarks. Through mid-October, choose from cruise options like the Sunset Dance Cruise, Moosehead Lake Brunch Cruise, Sugar Island Cruise, and Moosehead Lake Fireworks Cruise. 
The Katahdin is one of Moosehead's most prominent pieces of history, having once carried everything from livestock and equipment, to supplies and log booms. Now considered a "living museum," her galley stocks beverages, sandwiches and snacks, with a corresponding gift shop and more museum attractions to explore on land. For more information call, 207-695-2716 or visit www.katahdincruises.com
Looking for a private boat tour? Head to The Birches Resort and check out the "Birches Dreamer" Charter Boat for cruises and charters! 
Enjoy Food and Drinks Lakeside
What day on the water is complete without waterfront cocktails?
Stop by Dockside Inn and Tavern in downtown Greenville to sip local specialties like a Kineopolitan Cosmo, The Birchman-Moscow Mule, Sugar Island Coconut, Pear Spritzah, and Liquored Up Lemonade while soaking up sun and beautiful views of the water. Dockside is famous for its crab stuffed haddock, bacon-wrapped scallops and other tidbits alongside a full menu of locally-sourced fare. They also feature Gluten-Free options for those with sensitivities/allergies to gluten. 
Kelly's Landing is a long time staple in the Moosehead Lake area! The Birches is another great place to enjoy a meal along the water if Rockwood! In Monson, you can eat and drink along the shores of Lake Hebron at the Lakeshore House. 
Or, pick up some wine from Indian Hill Trading Post and a picnic basket from Northwoods Gourmet Girl and enjoy the public beach in Greenville, or take a lakeside picnic in any of the surrounding areas!
Rent Jet Skis, Boats and SUP This Summer – or bring your own!
Moosehead Lake is rife with watercraft options! We recommend taking some time to explore the water via standup paddleboard, jet ski, kayak, canoe and/or boat. Many of the local businesses on the lake offer equipment and watercraft rentals so you can explore for the day without carting around your own gear.   
There are also additional boat and watercraft rental opportunities in Rockwood available, but be sure to book them well in advance as boating Moosehead is extremely popular.
If you bring your own watercraft, there are public boat launches available in Greenville Junction, in Lily Bay State Park (fee applies) and in Rockwood at the Rockwood Town Landing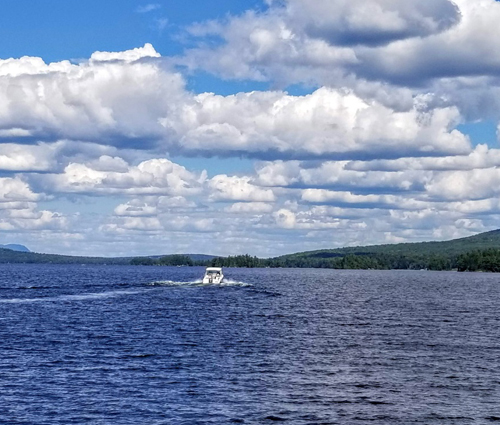 Boating on Moosehead Lake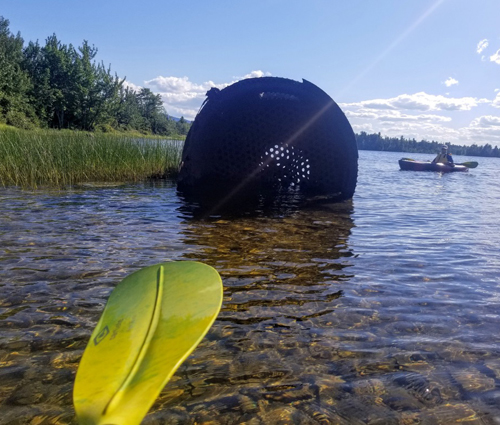 Shipwrecks on Moosehead lake
Photo courtesy of Moxie Outdoor Adventures
Scope Out Shipwrecks on Moosehead Lake
Being the largest mountain lake in the eastern United States, Moosehead holds some intriguing secrets! Believe it or not, these cold, deep waters hold around a dozen shipwrecks, many of which are decades-old steamships that were burned to the waterline then sunk. Some, however, are nearly fully-preserved vessels that retain architectural features that speak to the history of the lake. 
Make it a solo adventure to explore these sites, or create a fun family treasure hunt to spot as many wrecks as are visible from the surface!
Whitewater Rafting
Whitewater rafting is a bucket list item for many people! Moosehead Lake is at the heart of whitewater rafting in Maine, located between world-class whitewater on the Kennebec River (family fun rafting experience) and the Penobscot River (more adventurous whitewater trip), with daily rafting trips, transportation offered by Moxie Outdoors and Northeast Whitewater from May – September.  Learn more about Whitewater Rafting on our website!