Visiting the Moosehead Region with your Dog Companion
So you are coming up to the Moosehead Lake region with your furry friend. Well you are in luck, Moosehead Lake offers a range of fun activities for you and your dog, from many recreational activities to lounging by the lake with your pup. Moosehead offers some fun friendly hikes for you and your dog. 
Some of our favorites are:
Lily Bay State Park- Dogs are welcome at Lily Bay State Park. There's a pet-friendly, two-mile walking trail that follows the shoreline between the beach and Rowell Cove campground.
Visitors are reminded that no pets are allowed on State Park beaches between April 1 and September 30. If you're bringing your pup, remember to keep them on a leash under six feet for the duration of their stay and clean up any mess that they leave behind. Lily Bay State Park is open every day of the week from 9am until sunset.
Mount Kineo State Park- Dogs are allowed to join their owners at Mount Kineo State Park. The cliff face, known as Mount Kineo, rises 700 feet above Moosehead Lake and is a sight to behold. The trails can be challenging, so make sure you wear the right footwear around the lake and keep your pup on a leash under six feet in length. To preserve the cleanliness of the water, make sure you clean up after your dog. Mount Kineo State Park is open every day of the week from 9am until sunset.
Big Moose Mountain- Big Moose Mountain trail is moderate to difficult in intensity and very dog-friendly. The trail starts with a gentle grade and becomes rather steep near the summit. Along the way you pass an abandoned cabin and are greeted by scenic vistas at the summit. On leash permitted for the safety of your dog and others.
Little Wilson Falls- Explore this 2.5-mile out-and-back trail near Elliotsville, Maine. The trail is open year-round and is beautiful to visit anytime. Dogs are welcome, but must be on a leash.
***Reminder: *A carry in and carry out policy is for all hikes. This includes the poop bags*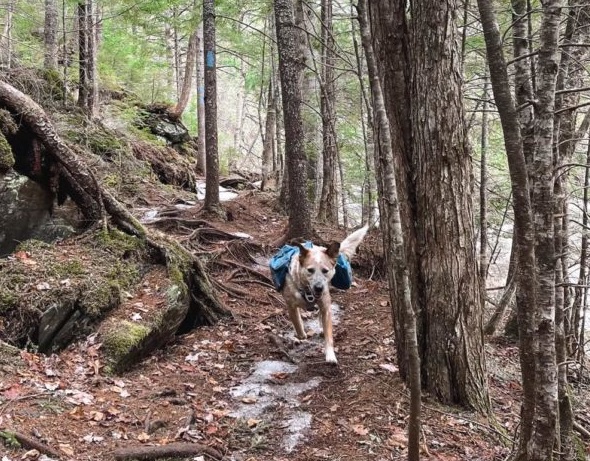 After a long day of activities you may find yourself resting up in one of Moosehead Lakes pet friendly lodges, sporting camps, and or statepark!
*Please check in with all Lodging below on their own Pet Policies.* 
Abbot Trailside Lodging– Abbot Trailside Lodging- Abbot Trailside Lodging allows two pets of any size for an additional fee. Both dogs and cats are allowed, and well-behaved pets may be left unattended in rooms. There are grassy areas and walking trails with pet stations for pet relief on the property.
Kineo View Lodge-  We are a pet friendly hotel and welcome pets and their responsible owners. Pets cannot be left unattended inside the room and have to be kept on a leash at all times on the property.
Leisure Life Resort– Pets are allowed
Moose Mountain Inn– We are a pet-friendly facility and welcome pets and their responsible owners. Please keep your pet on a leash. Please clean up after your pet. Please do not keep your pet in your room unattended. Pets, please bring your responsible owner.
Blair Hill Inn (Pet friendly room)– Guest Room 10 is Pet Friendly
Birches Resort–The Birches Resort is pet friendly! Leashed dogs of any size are welcome for no additional fee. There are many miles of trails for hiking and biking with your family and furry family members.
Ledge Brook Cabins– This 3-bedroom vacation rental in Greenville allows 2 dogs of any size.. Cats are also welcome.
Maynards in Maine– All of our cabin rentals are pet friendly. All we ask is that you keep them on a leash, clean up after them, and to also bring their own bed and dishes.
Misty Morning Cottage– We do require that dogs left unattended in our dog-friendly cottages be crated while you're away. (Please call ahead due to breed restrictions)
Moosehead Hills Cabins– Pets are welcome with prior approval (max 2 pets) in Kineo, Seboomook, and Tomhegan cabins only. No pets on the beds and furniture. Pets are not allowed to be left alone in the cabins.
Wilson Pond Cabins- Dogs are welcome at Wilson Pond Cabins with prior approval only. Due to insurance regulations, certain large breed dogs are not allowed.
Wilsons on Moosehead- Pets are welcome with prior approval only. Our insurance does not allow certain breeds and we strictly follow this policy.
For any supplies you may have forgotten for your pup, the Moosehead Lake Region has some great spots! Indian hill Trading Post provides most basic dog and cat food as well as some other supplies, another great place for more selections would be Morrell's Hardware Store. If you can't find what you need there is luckily a larger retail stores in Dover-Foxcroft that has a larger selection of supplies, like Tractor Supply Co. or Shaw's Supermarkets. 
If your pet is on any specialty food we have a few local veterinary offices that may be of help! 
If any emergencies were to happen don't fret! Local veterinarian offices are here to help. Foxcroft Veterinary is located in Dover-Foxcroft, Eastern Maine Emergency Veterinary Clinic in Brewer, and Dexter/Greenville Veterinary Clinic. 
For times and location please click on the links below:
Dexter/Greenville office
Foxcroft Veterinary
Eastern Maine Veterinary Clinic 
We hope you and your pup enjoy your stay with us here at the Moosehead Lake Region! Here's to many more memories with your beloved pet!
A little bit about the author:
My name is Melinda and I started working for Destination Moosehead Lake in March of 2022. I am from Monson Maine and have many roots within the Moosehead Lake Region, from loggers in the woods to steamship captains, and wardens. I am currently majoring in Wildlife Conservation with a minor in Outdoor Recreation at Unity College. When I am not busy with work and school, I am often out and about on hikes with my dog Fry. My favorite pastime is grabbing my kayak and going for a paddle. I am a huge outdoor enthusiast and prefer to be outdoors all seasons. I look forward to working with the community of the Moosehead Lake Region for years to come. My goal is to help create a sustainable and lively community where nature and humans can coexist.