Moosehead Lake Photography Reference Guide
October 4, 2021 by Destination Moosehead
A Photographer's Guide to Moosehead Lake
Moosehead Lake is a destination for photographers across Maine and New England. There are many reasons why people flock to the Moosehead Lake area to capture epic, one-of-a-kind, lifetime bucket list photos! We answer a lot of questions in the Visitor's Center regarding where to get the best images, so we've put together a reference guide for photographers, both professional, and amateur. The best thing about our area is that you don't need to be a pro to capture incredibly beautiful images. You can adventure out and use your cellphone for many opportunities! There are so many places to capture photography in the Moosehead Lake area. This reference guide will help you plan your photography adventures.
Make sure to use the search feature on our website to check out all of the great food, lodging, and Registered Maine Guide options when planning your photography adventure!
The Best Places to Take Bird & Wildlife Photos
Moosehead Lake offers opportunities to capture wildlife photos such as moose, eagles, loons, deer, and more. One of our locals' favorite places to capture loon photos and even spot some nesting loons is at Shirley Pond. It's easily accessed by the ATV trail that runs parallel. To access it, take Upper Shirley Corner Road and a left by Dovetail Bats! 
Borestone Mountain, in addition to offering great views, is an Audubon Sanctuary near the southern end of Maine's "100-Mile Wilderness" forest. It's a great place to hike through old forest and pondside trails to see dozens of species of birds and wildlife in vastly undisturbed natural habitats. Want to learn more about some of the best bird watching opportunities in the Moosehead Lake region? Check out this blog post or the mainebirdingtrail.com
Have moose on the mind? Lazy Tom Bog is a famous hangout for our region's namesake and is known for offering great photo ops! Be sure to check out our Guide to Spotting Moose for all the tips from the best time of day to look for a moose to how to tell if one has been in the area recently. You may end up getting some gorgeous shots like our guest blogger Justin Smulski did on his Weekend Moose Watching Tour! 
The Best Places to Take Sunset Photos
Blair Hill Inn is a well-known vantage point from which many guests capture stunning sunset shots! It's common to see cars pulled over on Lily Bay Road to capture photos of the sunset across the ridge. 
The Birches, on the Western shore of Moosehead, offers remote lodging options to set you up for sunset success, as well as ample stunning views from their main camps, front porch, dock, and all around the grounds. The options are endless!
Would you rather a road trip? Take a ride to Kokadjo to capture the sunset from the roadside! You can frame your photo in an endless amount of ways as views wrap around in every direction — and all are equally breathtaking.
Photo provided by Jacks Air Service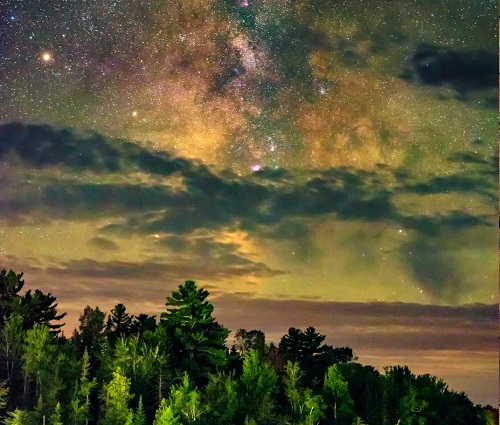 Photos provided by Wilsons of Moosehead Lake & Corey Cain
The Best Places to Take Photos From the Lake
Water reflects and amplifies beauty in a way that nothing else can, making it a fantastic tool for amateur and pro photographers alike. Leverage the lake by taking a boat ride with your camera! We recommend hopping on the Mount Kineo shuttle for views of the island. To get a magic shot of Mount Kineo, consider renting a canoe or other private watercraft to drift across the water at your own pace. A particularly good angle is that from Lily Bay State Park's beaches!
For some epic action shots, try whitewater rafting with Northeast Whitewater or Moxie Outdoors, and have your photo taken on the water!
The Best Places to Take Photos From the Air
One of the freshest perspectives to the human eye is that from above. For amazing aerial shots, we recommend enlisting the help of Currier's Flying Service or Jack's Air Service for a scenic flight or seaplane ride. You can choose from a selection of routes highlighting local landmarks below, both on land and on water. The remaining fall foliage looks particularly captivating from above and lends itself to one-of-a-kind seasonal shots! 
The Best Places to Take Photos from a Mountaintop
Some of the most sweeping views in the area come from mountain tops. The region has plenty of peaks to choose from, but a select few are top notch for capturing through the viewfinder.
Mount Kineo – At the summit stands a tower originally used for spotting fires, and still offers 360-degree views of all the region has to offer. Most days you'll be able to see Katahdin clearly — though it's 60 miles away — and as a bonus, the hike to the top is easy to moderate!

Borestone – One of Maine's most popular hikes, Borestone Mountain offers two peaks, both with 360* views. There are multiple trails to the top, and by the end, you'll have gained 2,000 feet in altitude. Even 

Sunrise Pond (located near the Visitor's Center) is a picturesque setting great for a photoshoot!

Eagle Rock – 

One of the best-kept secrets of hiking near Moosehead is that from the top of Eagle Rock, you can see 360 degree views of the surrounding areas, which feature Mount Katahdin, Sugarloaf Mountain, and the 100 Mile Wilderness section of the Appalachian Trail! It's an amazing place to pause, soak in the scenery, snap frame some stunning photographs and reflect on the progress of your hike for the day.
The Best Places for Astrophotography
One of the great things about the Moosehead Lake area is that its void of light pollution. You can see the stars from basically anywhere, but our top picks are Lily Bay State Park, Wilsons on Moosehead, and Appalachian Mountain Club's property Mediwisla. Check our list of partners online to find a great place to stay! 
The International Dark-Sky Association (IDA) recently designated the Appalachian Mountain Club's (AMC) Maine Woods property, Mediwisla, to be the first International Dark Sky Park in New England! This step will work to protect night sky quality and will hopefully lead to an expansion of even more Dark Sky Park areas in our region in the future.
The Best Places for Food Photography
After a long day of summiting local peaks and paddling across the lake, it's a great opportunity to sit and soak in Moosehead's culinary offerings! There are nearly endless options to taste, and the dining establishments cover nearly every genre of food. 
A few of these establishments offer takeout or picnic options that you can take with you on your photographic journey! Try picking up some tidbits from Monson General Store, Moosehead Meat and Deli, or Kelly's Landing!
Not able to capture images while you're here? It's ok! Check out one of our many shopping partners for framed images and postcards of some of the great things Moosehead Lake has to offer! You can also shop online at Moosehead Marketplace! 
Share your images with us on your social media channels!  You can tag us – #DestinationMooseheadLake or @DestinationMoosheadLake – and be sure to use a location tag as well!