Ice Fishing in the Moosehead Lake Region
Fishing on a Frozen Lake
by Melinda Underwood
If you are into outdoor recreation like Ice fishing, well the Moosehead Lake region is the place for you. Ice fishing is an activity with a large following. We even have our derbies- The Moosehead Lake Togue Derby weekend, and 42 Annual Moosehead Lake Ice Fishing Derby, Greenville Fire Department 2nd Annual Ice Fishing Derby.  When Ice fishing in the Moosehead Lake region- always make sure you have the proper gear. 
Here are a few tips:  
Warm Clothing: You are going to want to dress for the conditions. It might seem like common sense but while recreating in below-freezing temperatures you need to have the proper clothing. Nothing ruins a day of ice fishing like getting cold or wet. Always bring extras. Hand and foot warmers are great to have as well – Just in case! Another go-to item would be Creepers or ice cleats – These slide over your boots to prevent falling on the ice when there isn't a good covering of snow. Another helpful tip is to wear sunglasses and sunscreen – This may be surprising, but when the sun reflects off the ice or snow, sunglasses, and sunscreen can save the day.
Equipment: An ice chisel is most effective early in the season but can also be used as a safety tool to check ice thickness throughout the season.  An ice auger is a most commonly used tool to drill holes through the ice. There are many options whether it's a hand, electric, gas, or propane-powered auger.
Traps & Tackle: Setting "traps" or "tip-ups" paired with live bait is probably the most common way to fish through the ice in Maine. A trap or tip-up is simply a device that sits on top of the ice, holds the fishing line, and has an indicator flag that "trips" when a fish tugs on the line. Another option is a jig rod. Jig rods are essentially mini fishing poles and are also very popular with ice anglers that prefer a more active style of fishing. In most Maine waters, you can have five lines set (traps and jigging combined) at one time, so most anglers tend to own five traps total. (See MDIFW Fishing Guide for more information)
Photos provided by M.Underwood
Packing your sled: A Jet sled is highly recommended for carrying your gear on and off the ice- a child's sled will also work if you do not have a Jet sled
A Bait bucket and bait net – You'll need a way to safely transport your bait. Don't forget the net or your hands will get wet and cold trying to get your bait out of the bucket!
Ice scoop or "skimmer" – To get the floating ice chunks out of the hole after you drill it.
Pack basket or large backpack – A place to store and carry your traps, clothing, and gear.
Fishing pliers/fishing knife – To remove the hook when you catch a fish.
Depth sounders – A simple weight temporarily attached to the end of your line to find the depth of the water when setting your trap.
*** Always let someone know where you are going and what time you will be back***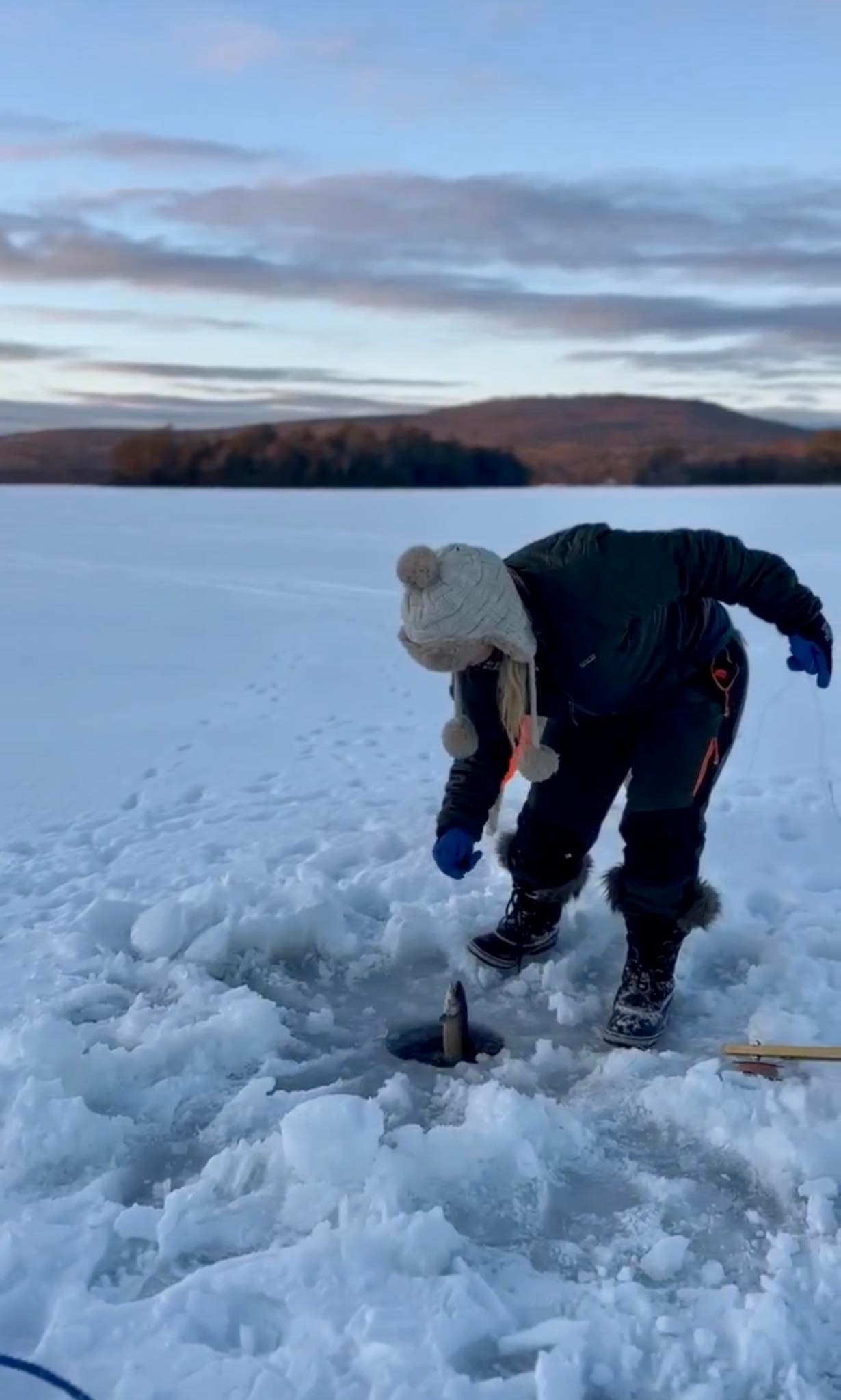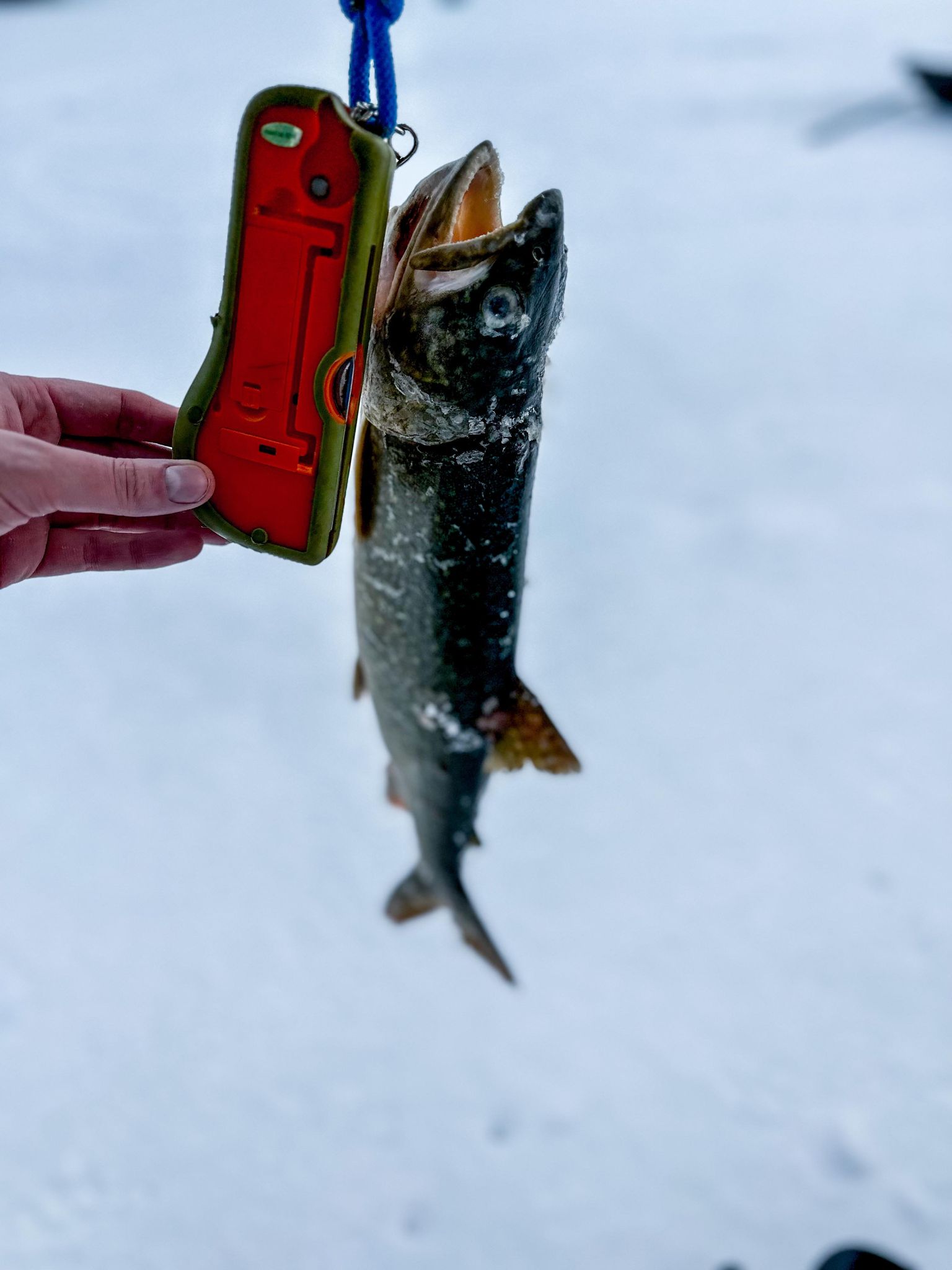 Now the fun part after all is set up is waiting for a flag! Now, this could take a while but some of my favorite activities on the ice include making lunch! A go-to Ice fishing snack of mine is a crock full of chili, warm and delicious for cold days. If you have an Ice Fishing Shack or tent, pick up some card games and warm up as you wait for a flag, or just spend some time with your friends or family. Ice fishing is a great activity to do with others. 
Once you hear someone call FLAG!! It's time to move! Gently pick up the trap and grab the line.  A short, quick tug on the line will set the hook. Bring the line hand over hand, keeping steady pressure and tension and letting the fish take the line if it runs. You need to act quickly as soon as you land the fish (bring the fish through the hole onto the ice). Use pliers to remove the hook from the fish and if the hook is too deep for pliers just cut the line as close to the fish's mouth as possible (the hook will dissolve naturally).
 If you plan on keeping the fish, make sure it meets the legal length requirements with a tape measure. If the fish is not legal, or you just decide you'd like to release the fish, please do so as fast as possible. A gentle, quick release will give the fish the best chance of survival after the catch. Once it's released, it is time to rebait and do it all over again.
Nothing is more rewarding than pulling a fish through the ice!
Packing up: When it is time to call it a day, remember to never dispose of bait (dead or alive) in the water or down your hole. (It is illegal to dump unused baitfish into any waterway.)
A little bit about the author:
My name is Melinda and I started working for Destination Moosehead Lake in March of 2022. I am from Monson Maine and have many roots within the Moosehead Lake Region, from loggers in the woods to steamship captains, and wardens. I am currently majoring in Wildlife Conservation with a minor in Outdoor Recreation at Unity College. When I am not busy with work and school, I am often out and about on hikes with my dog Fry. My favorite pastime is grabbing my kayak and going for a paddle. I am a huge outdoor enthusiast and prefer to be outdoors all seasons. I look forward to working with the community of the Moosehead Lake Region for years to come. My goal is to help create a sustainable and lively community where nature and humans can coexist.