Birding Areas in the Moosehead Lake Region
October 4, 2021  by Destination Moosehead
We have many guests to our region visit the Visitor's Center asking us where the best spots for bird watching are in our region! We've gathered some information courtesy of the mainebirdingtrail.com to be used for quick reference. Here are some of our favorite birding areas in the Moosehead Lake region!
Piscataquis County Soil & Water Conservation District Demonstration Forest
The Piscataquis County Soil & Water Conservation District Demonstration Forest is well hidden and lightly used in the woods of Williamsburg west of Brownville Junction. The 180-acre tract is managed to demonstrate varying forestry practices, which also account for the bird diversity. During the breeding season, it is loud with eastern wood- pewees, least and yellow-bellied flycatchers, and an abundance of blackburnian and black-throated blue warblers. Hermit thrush and veery are species to be expected in the northern forest, but wood thrush has been noted near the parking area.
Several loop trails run through different habitats, the first of which is the Shelter Wood Trail. Initially, it traverses sparse pine woods, but there is a dense, coniferous stand on the backside that regularly produces a ruffed grouse.
The Canyon Trail (and the Plantation Loop and Larson Loops beyond) run through elevation changes that sometimes put hikers at eye level with canopy birds. Scarlet tanagers and red-eyed vireos prefer the tops of these mature, deciduous stands, while ovenbirds may be found around the forest floor.
Directions: (Approx. 49.0 miles, 1hr 8mins from Greenville Visitor Center)
From Greenville: Head south on Route 15/6 for 12.1 miles. Take a slight left on to N. Guilford Rd in Monson for 5.2 miles. Then take a right turn onto Route 150 S in North Guilford for 2.4 miles. Then take a left onto Guilford Center Rd. in North Guilford for 2.9 miles. Turn left onto Wharff Road in Guilford Center follow that for 3 miles. This road will change names to Anderson Road continue following straight for another 1.3 miles. Take a right onto Dawes Road in Dover-Foxcroft for about 0.4 miles. Then take a sharp left turn onto Park St. for 1.2 miles. This will take you to North St. in Dover-Foxcroft where you'll take a right and follow that for 0.3 miles. In the town of Dover-Foxcroft you will take a left onto Summer St. which is Rt. 16 East/Rt. 6 East you'll follow this road for approx. 7.4 miles. In the Town of Sebec you will take a left onto Austin Rd./Sebec Village Rd. continue straight on that road for approx. 6 miles. You will turn right onto Barnard Rd. going about 2.9 miles. Then take a left onto Williamsburg Rd. that will then turn into Roberts Rd for 4 miles. You will have arrived at your destination of Piscataquis County Demonstration Forest Nature Trails. GPS: 45.369215, -69.089107
Borestone Mountain Area
Borestone Mountain is a 1981-foot peak contained within a Maine Audubon sanctuary. It is a local favorite for family hikers. Two-thirds of the hike follows an easy hiking trail or dirt road. American redstarts are often apparent in the parking area.
Because Borestone has been protected for over 100 years, the mature hardwoods that envelope the first third of the trail are particularly good for canopy birds such as red-eyed vireos, scarlet tanagers, blackburnian warblers, and northern parula.
The vegetation changes gradually during the ascent, leaving behind the maples, and embracing birches and beeches. Here, blue-headed vireos, and magnolia, black-throated blue, and black-throated green warblers quickly become commonplace, with a good chance for ruby-crowned kinglets. Then, as the hardwoods mix with stands of evergreens (mostly red spruce), more hermit thrushes, golden-crowned kinglets, and winter wrens become noticeable. The usual chickadees, nuthatches, and woodpeckers are always around.
The trail plateaus upon approach to the visitor center. The thicker evergreen forest is home to Canada warblers. Northern goshawks are seen occasionally. In winter, during irruptive years, an astounding number of crossbills can be heard chattering throughout this section.
Audubon's visitor center is two-thirds of the way up the mountain, adjacent to one of the three mountain ponds. The three ponds are pleasingly known as Sunrise Pond on the near right, Sunset Pond out of sight on the distant left, and, of course, Midday Pond in the middle. The water in these ponds is so clear it is possible to see 50 feet below the surface. There are occasional common mergansers in the ponds, but the harsh alpine climate supports little aquatic life, so ducks are uncommon.
To ascend the rest of Borestone Mountain, follow the trail around the visitor center. The ascent is strenuous and will require some clambering over boulders, but the view is spectacular, especially in foliage season. Aside from more winter wrens, hermit thrushes, and white-throated sparrows, the birding is ordinary to the summit, but the 360-degree views from the top make the hike worthwhile.
The road on the way to Borestone Mountain is pleasantly birdy. Stop at the Wilson Stream bridge and enjoy the barn swallows that nest under it. A mile later, stop and spend a few minutes at the railroad tracks. The trees are full of red-eyed vireos, and with a little more patience, scarlet tanagers may reveal their presence. It's not unusual for sharp-shinned hawks to cruise the rail line. This is an active track, so beware of trains.
Directions: (Approx. 20 miles, 28 mins from the Greenville Visitor Center)
Head south on Route 15/6 for about 11.4 miles. In the Town of Monson take a left onto Elliotsville Rd. Follow 7.5 miles to Big Wilson Stream Bridge. Turn left at the intersection and follow signs another mile to the Borestone parking lot. Parking is at the base of the mountain. The lot fills early on nice days so you may have to join the others parked along the roadside.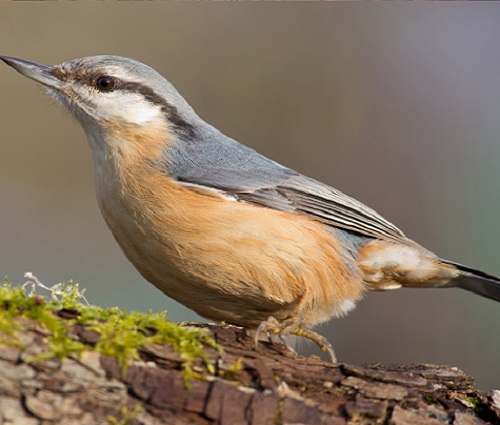 ​Moosehead Lake – West
Moosehead Lake is Maine's largest lake. Most of the surrounding forest is managed for timber harvesting, and there are many remote logging roads open to public access for traditional sporting activities. This combination of remoteness and access has made the region excellent for birding in Maine's vast forest.
The Moosehead Lake region is famous for its large moose population, and Greenville is home to the Moosemania Festival every spring. Maine also has the largest population of black bears east of the Mississippi, and encounters with eastern coyotes are a regular occurrence. Beavers can be seen in every small and slow-moving body of water, and they generally become active and visible in the late afternoon. Otters are common in shallow, slow-moving waters.
On the west side of Moosehead Lake, two outflows of the Kennebec River cross under Route 15. The East Outlet is about 10 miles north of Greenville Junction. There is a small parking lot and a dirt road just north of the bridge. This is an excellent road for a warbler walk since there is little traffic. The first 1.5-mile section of this road is the best, traversing a mix of mature hardwoods and conifer species. Canopy warblers such as blackburnian, pine, northern parula, bay-breasted, black-throated green, and black-throated blue are relatively easy to view. At 1.5 miles, the road turns abruptly right into a regenerating clear cut where sparrows and flycatchers can be added to the day's list. At all times be alert for boreal chickadees.
The West Outlet is about 16 miles north of Greenville Junction. North of the bridge, look for a dirt road leading west called Somerset Road. This road also traverses mature hardwood growth and offers many of the same birding opportunities as the East Outlet. However, this road continues for 26 miles to Route 201, and there are homes on the outlet ponds, so it tends to be more heavily traveled. On the other hand, the road brushes past several good views of rivers, ponds, and productive wetland areas, so a walk or slow drive can be equally pleasurable.
Rockwood is the last sure chance for gas and supplies. It is here that Route 15 turns west along the Moose River, heading for Jackman. However, by turning right and crossing the bridge in Rockwood, the Moosehead adventure continues. The Birches Resort lies just a few miles ahead. Beyond The Birches, a well-traveled dirt road extends far into the North Maine Woods. The historic Pittston Farm sits 20 miles north of Rockwood on Seboomook Lake.
The 20-Mile Road leads through experimental plantings of red pine and white spruce where regenerating clear-cuts are home to breeding Lincoln's sparrows and mourning warblers.
Just beyond Pittston Farm, the road continues several miles to the Golden Road, an unpaved artery that runs east/west from Millinocket to Quebec. A fee is charged beyond this point. The road's primary purpose is to serve Maine's working forest, but it also serves as recreational access to many remote areas, including the Allagash Wilderness Waterway farther north.
Moosehead Lake – East
Scammon Ridge on the east side of Moosehead Lake just above Greenville is one of the better mature forests in the area. Tall balsam fir, thick yellow birches, and elderly beeches predominate. Expect many canopy warblers such as blackburnian, northern parula, black-throated green, and black-throated blue. Ovenbirds and winter wrens are common at ground level. The suggested birding route winds 8.1 miles behind the ridge and traverses several excellent beaver flowages before exiting along Mountain View Lane. Directions: From Route 15 in downtown Greenville, take the Lily Bay Road north one mile and turn right onto Scammon Road.
Elephant Mountain, like much of the woods east of Moosehead Lake, has been heavily logged. There are now vast stretches of secondary regrowth, experimental plantings of spruce and pine, and mixed hardwoods. American redstarts, magnolia, chestnut-sided, and Nashville warblers are found in abundance in these areas. Tennessee warblers are present in small numbers. This is also an area of small ponds and beaver flowages. As a result, the backcountry contains a warren of identical dirt roads that crisscross the area, making it easy for birders to lose their way.
An intriguing way to circumvent the problem is to pay one's respects at Elephant Mountain. In 1963 a B-52 bomber on a training mission suffered a structural failure and crashed at the base of the mountain. Most of the wreckage was left intact as a shrine to the crewmen who perished. It is treated with great reverence by Mainers, and ceremonies still take place there every year. Recently, the Maine Air National Guard has erected signs that direct respectful people to the site. Using these signs as navigational tools, it is possible for birders to navigate these roads for an exploration of the area. A visit to the crash site also reminds us of the daily risks undertaken by all those in uniform who protect our freedoms. The "B-52" signs begin on Prong Pond Road at its intersection with Lily Bay Road. In the clear-cuts just before the crash site, blackpolls are noteworthy among the regenerating spruce thickets.
Lily Bay State Park is on the east side of Moosehead Lake, 8.7 miles north of Greenville. This is a popular park for camping, with semi-secluded sites, a boat launch, and a beach. Tall white pines near the shoreline are lively with pine warblers, and there is a fine assortment of other common warblers, vireos, and thrushes throughout the park. Canada warblers and winter wrens are more often seen than heard during a morning walk along the access road.
Kokadjo is a tiny community 18.5 miles north of Greenville on Lily Bay Road. Barn, tree, and cliff swallows fill the sky here during spring and summer. Cliff swallows nest under the eaves of the buildings, barn swallows nest in the barn behind the store, and tree swallows take advantage of birdhouses and woodpecker cavities in the area. Birdfeeders outside the restaurant attract purple finches, rose-breasted grosbeaks, American goldfinches, and chipping sparrows, often in large numbers. Common loons, Canada geese, and mallards in First Roach Pond take little heed of people and are always quite close.
For the next several miles north of Kokadjo, including side roads and the road east to Second Roach Pond, there are extensive spruce-fir forests that are very good for boreal specialties. Listen for Cape May and bay-breasted warblers, Lincoln's sparrows, and Canada jays. Spruce grouse are sighted regularly in the area. Harvested woodlots that are regenerating with maple and brambles are good places to look for a mourning warbler. The Appalachian Mountain Club's Medawisla sporting camps are on Second Roach Pond.
Lazy Tom Stream is 1.5 miles north of Kokadjo, bearing left at the first fork, then left again toward Spencer Pond Camps. Just a few hundred yards from the turn, terrifically scenic Lazy Tom Stream crosses under the road. There is always something unusual here. Common mergansers are often present and the wetland is full of Wilson's snipe. Northern harriers are a common sight over the bog. American redstarts and cedar waxwings are usually obvious. Crossbills, particularly white-winged, may be around at any time of year.
Little Moose Unit of Maine Public Reserved Land
The Little Moose Unit of Maine Public Reserved Land contains several hiking trails, campsites, and the trailhead for Big Moose Mountain. This peak rises 3200 feet into the Bicknells' thrush zone, and a few have traditionally nested near the summit. The Bicknell's thrush is vocal primarily at dawn and dusk. It is handy to be familiar with its call notes, sounding like WEER. Due to its preference for alpine habitat, Bicknell's thrush is a late migrant, usually arriving after Memorial Day weekend. The mountain ascent is relatively short, and often strenuous, through excellent birding habitat, transitioning from the scarlet tanagers of the lower elevation hardwoods, through zones of balsam fir and spruce over the 90-minute climb. Blackpolls, Bay-breasted warblers, yellow-bellied flycatchers, boreal chickadees, and spruce grouse are found near the summit. The road through the Little Moose Unit is good for ruffed grouse, and Philadelphia vireos have been noted near the Big Moose Mountain trailhead.
Directions: 
On Route 15, the North Road turns west 3.5 miles north of Greenville Junction. The trailhead for Big Moose is 1.3 miles from the intersection.