Moose Watching & Moose Safaris
Want to spot a moose in the wild? We can help.
Be the moose. Feel like a moose. Know intimately the life of a moose. AND take lots of awesome photos so you can post them on social!
The search for Moosehead's most famous resident -the moose- is on, and yes, they are bigger than you thought they would be! Maine is one of the few states with a thriving moose population, and in the Moosehead Lake Region, the moose outnumber people three to one!
Moose prefer solitude and deep woods cover in their habitat, so it is no surprise that the Moosehead Lake region has been claimed as home by these elusive animals for years. 
An intricate network of abandoned woods roads provides countless opportunities to spot moose throughout all four seasons and professional guide services offer unsurpassed access to the mooses' deepest woods territory. 
Moose Facts
The Maine state mammal's size is both impressive and intimidating by any measure. A fully grown male moose, called a bull, can reach 6 ft. in height at the shoulder and can weigh upwards of 1400 lbs. 

They enjoy dining on aquatic plants in the summer months and tree bark, leaves, and balsam fir in the cooler seasons. 

While clumsy in appearance, moose can run at speeds of 35 mph and can swim over 10 miles at a time. 

The best times of day to see moose are early in the morning or at dusk, while the best time of year is from mid-spring through late June. 

The flap of skin under a moose's throat is called a bell. 

Moose have no top front teeth. 

In the Moosehead Lake Region, moose outnumber people 3 to 1. 

Only male moose grow antlers, which they shed in early winter and re-grow during the year. The main function of antlers is for display during the mating season. 

The first law to protect moose was passed in 1930. 

After their first calf, moose quite often have twins. 

Moose can only see about 25 feet. 

Moose prefer shady, wet areas such as bogs and marshes. 

After dark, moose are very hard to spot standing on the road high above vehicle headlights. Always remain alert when driving at night. A moose encounter can result in great damage to vehicles and passengers.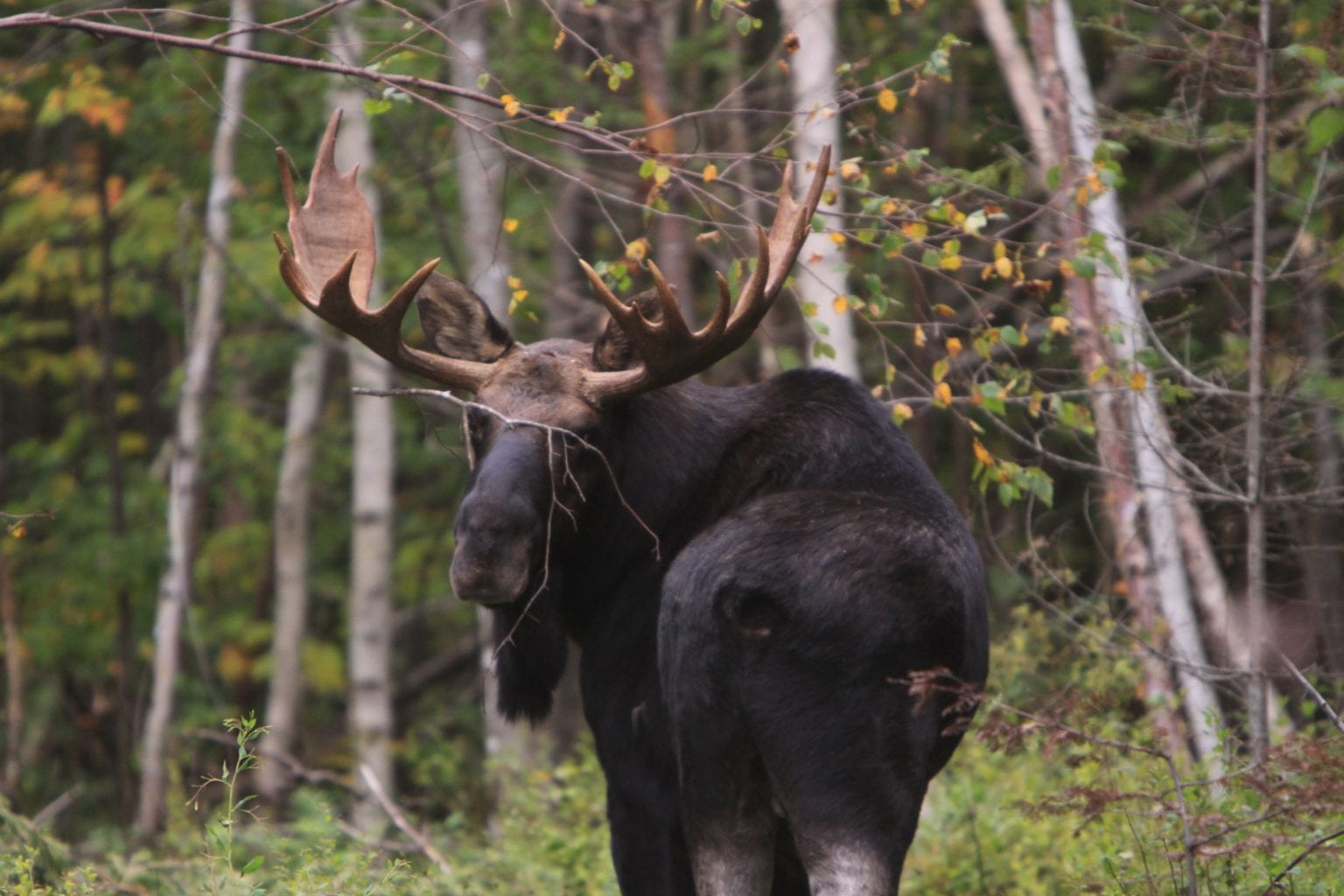 Department of Transportation Garage (DOT) – 

Shirley

 – Head south approximately 2.9 miles from the Visitor's Center and on your right is one of the best places for sighting moose in the area. If heading north towards Greenville, as you drive through Shirley, be sure to look for the DOT sign, moose will often be seen directly across the street. 
Lily Bay Road – 

Kokadjo

 – Take a scenic drive to Kokadjo, a small community north of Greenville. Stay on Lily Bay Road for approximately 20 miles and keep your eyes open for moose along the way. 
Lazy Tom Bog – 

Kokadjo

 – Head to Lazy Tom Bog by continuing 1.5 miles past the bridge. Stay to your left, then take the intersection to the left and continue half a mile to the bridge that crosses Lazy Tom Stream. 
Rt. 6/15 North – 

Rockwood/Jackman

 – After leaving Greenville you'll find approximately 20 miles of the North Woods of Maine before you reach the village of Rockwood. Moose are often seen along the roadside, so keep your eyes peeled. Another 20+ miles of woods separate Rockwood from Jackman and moose sightings are frequent along this stretch of the main road leading to Canada.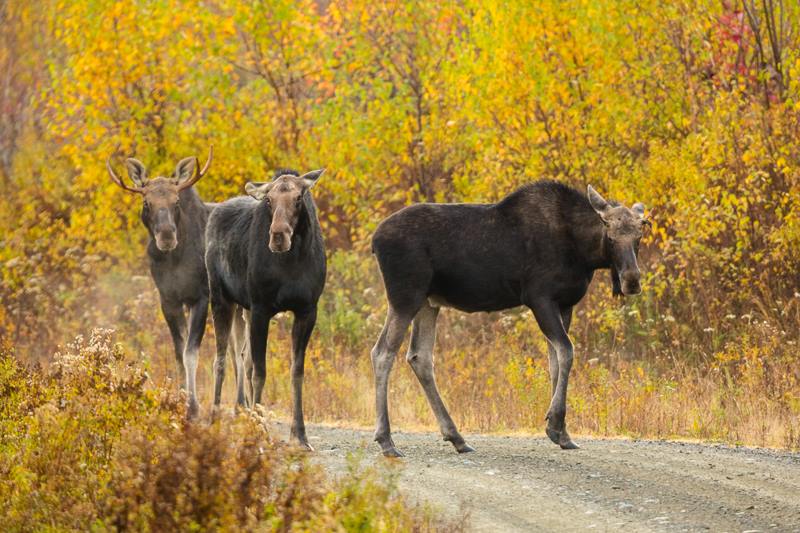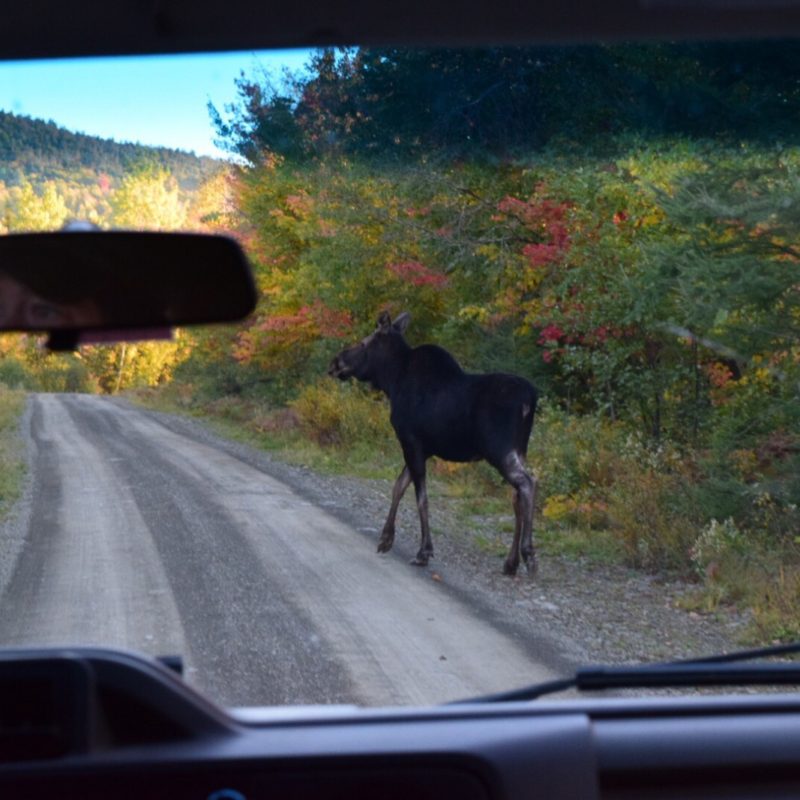 Photos provided by Northeast Whitewater
Check out these businesses
while exploring the area
Partner with Destination Moosehead Lake!
Contact us here to learn how you can add your listing to the website and stay up to date with the latest opportunities in the region!