It's time to get a little mud on your tires with an ATV adventure in the Moosehead Lake Region!
Miles of ATV trails winding through the North Woods are waiting for you to explore!
Breathe in the fresh mountain air and take in the panoramic trailside views just before you duck into the tree-lined paths. Splash through the biggest mud puddles, then dry out with a picnic lunch along the way. You may even have a companion moose watching you from the brush.
Where to ride an ATV near Moosehead Lake
Moosehead Lake's local ATV trail volunteers do an incredible job of maintaining well-marked trails throughout our region! You can ride from Greenville to The Forks, Rockwood, and even Kokadjo to get a real backcountry experience! The adventures are truly endless with ponds, moose sightings, and mountains to explore! The trail systems make it possible to go out for just a couple hours of fun or make it a full day expedition. Don't own an ATV? No problem! Rent one from one of our local businesses. We recommend setting up a guided ATV trip for the best riding experience!
Be safe while exploring the region!
While you're out exploring using our ATV/snowmobile trails, please be safe, ride right, and respect the property of our landowners. It is because of their generosity that you can enjoy the beauty of the North Woods of Maine. Greenville and Rockwood allow ATVs to travel through the main parts of town giving riders the ability to access restaurants and shops. When traveling in town pay attention to signs directing where and when ATVs are permitted to travel on roads.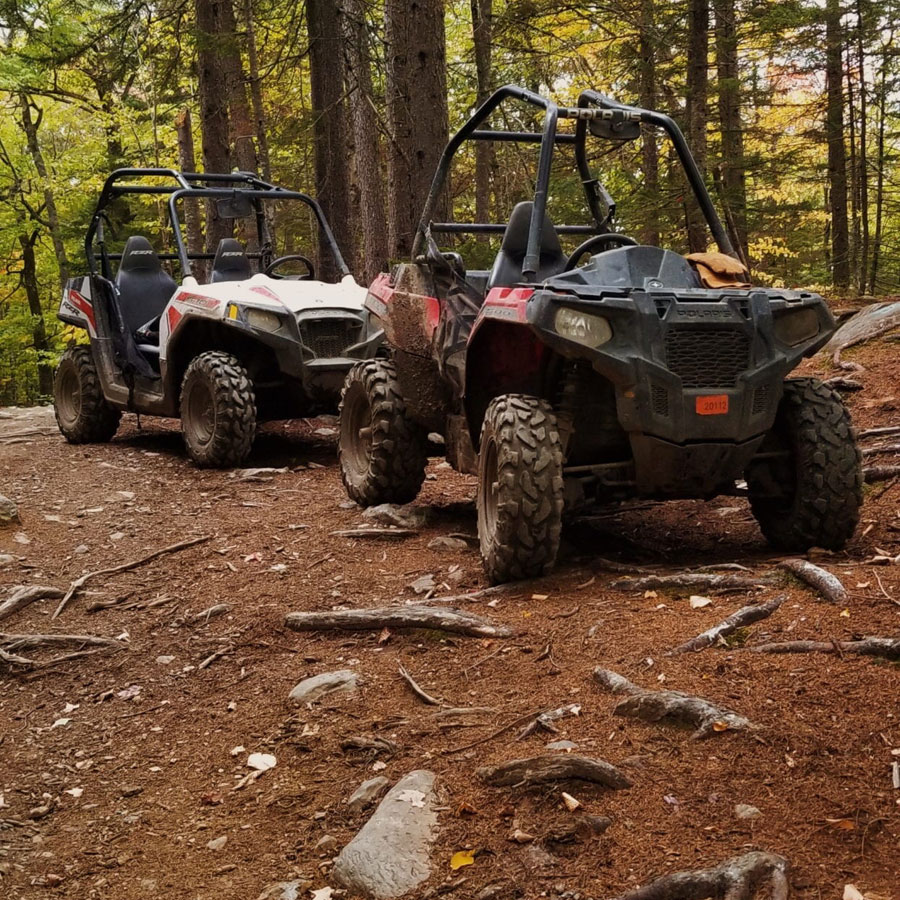 Photos provided by Meg Agrell
ATV trail opening information
Trails open in late spring and stay open until the late fall, generally around November 15th. Call our office during the season for specific trail dates. Greenville allows ATV to travel through the main parts of town, allowing riders to access restaurants and shops. Riders can also park their trailers and ride from the any of the rec trailheads from Greenville Junction to the East Outlet.
REMEMBER: Respect all landowners and their property. Always stay on marked trails. Bring one of our ATV maps and have an awesome time!
Frequently Asked Questions:
Q: Do I need to register my ATV in Maine?
A: Yes, and CLICK HERE for more information from the Maine Department of Inland Fisheries and Wildlife
Q: What are the rules for ATVing in Maine?
A: The State of Maine has a law book which can be found HERE. Always check with the local clubs in the area you are planning to ride for any specific questions that you have about their trail systems.
Check out these businesses
while exploring the area
Partner with Destination Moosehead Lake!
Contact us here to learn how you can add your listing to the website and stay up to date with the latest opportunities in the region!