July 14, 2022 by Destination Moosehead Lake 
Come spend a day in Monson Maine with me! 
Monson is a small town with a lively community ranging from young to old. From the out-of-town artists to the tourists, to even the locals, Monson is a home for everyone. A typical day visiting Monson would look like waking up to the cool fresh air and the friendliest faces. Monson General Store is a great stop when looking for breakfast and lunches for your outdoor adventure. They offer amazing products both local and nonlocal. My favorite way to start the day is with a breakfast bowl, prepped and ready to go. I also grab a Trail Blazer wrap for lunch on my way out. 
I grab my hiking bag and set forth to Little Wilson Falls, which is approximately 7 miles from town on Elliotsville Road. This is my favorite drive, with many beautiful views of Borestone Mountain. I spent most of my day hiking the trail which offers spectacular views of the stream up to the larger falls. This hike is also along the Appalachian trail so you cross paths with many friendly hikers who are either coming on or off towards the trailhead of the 100 Mile Wilderness. After having lunch at the top of the falls, I hike back to the parking lot and head back into town.
As I got back into town, I stopped and peeked at some of the local attractions. Monson has an art gallery as well as a quaint little pottery shop, and many unique antique shops. The Lily Cat: Northwoods Antiques and Buttons is one of the antique stores I stopped in, the collection of old relics from past generations jumped out at me instantly. The "Mt. Kineo House at Moosehead Lake" glasses and memorabilia were on display which brought back memories of stories I had heard as a child about where my great-grandmother worked and raised her children.
After looking around at all the local businesses, I decided to grab my kayak from my car and go for a paddle on Lake Hebron, which is in the heart of downtown Monson. As I paddled around Lake Hebron and enjoyed the sunset with some loons in the distance, I heard the band starting to play at The Lakeshore House. (The Lakeshore House offers live music and open mic night every Thursday and in the summer Sundays.) The Lakeshore House is one of Monson's little gems, they offer an amazing menu of yummy food and deliciously cold beers on draft. As I paddled in towards the shore of the Lakeshore House the music and laughing became more lively, everyone was having a great time. Luckily they offer a spot to dock your boat or kayak on. I joined the crowd and had an amazingly delicious steak bomb with fresh-cut fries. The sun was setting, the band was playing, and I looked around at everyone's smiling faces. I thought to myself "It's good to be in Monson".
Monson is celebrating its 200th Birthday this year! The Bicentennial committee is offering many fun events throughout the year. You can find all events on the Monson Bicentennial Facebook page.
https://www.facebook.com/groups/1554685974904866/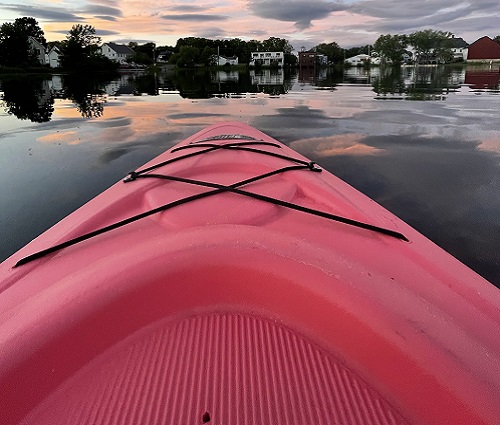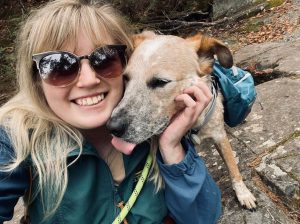 A little bit about the author:
My name is Melinda and I started working for Destination Moosehead Lake in March of 2022. I am from Monson Maine and have many roots within the Moosehead Lake Region, from loggers in the woods to steamship captains, and wardens. I am currently majoring in Wildlife Conservation with a minor in Outdoor Recreation at Unity College. When I am not busy with work and school, I am often out and about on hikes with my dog Fry. My favorite pastime is grabbing my kayak and going for a paddle. I am a huge outdoor enthusiast and prefer to be outdoors all seasons. I look forward to working with the community of the Moosehead Lake Region for years to come. My goal is to help create a sustainable and lively community where nature and humans can coexist.